What is Spidersnet Equine?
As the name suggests, our equine dealer website solution, Spidersnet Equine, offers you limitless opportunities to advertise online. It's our must-have solution for digital dominance, which has been created to save you time, effort, and maximizing your online exposure.
Infinity allows you to get online, or revamp your online presence. It provides you with a beautiful website, tailored completely to your business needs, as well as a suite of tools that makes managing your business online easy and effective at the same time.
Your new website is incredibly easy to manage and update and all of your stock will benefit from not only being on your website, but listed on Horseclicks too.
Check out some of our happy Infinity customers below.
What do I get?
Automatic syncing of ads between your brand new website and HorseClicks, saving you time
Ability to appear highly within Google for your local search terms
One central place to manage all of your stock and inquiries
Complete control over the ongoing look of your website
A website which is fully responsive, meaning it looks great on any device
Some of our happy Spidersnet Equine customers: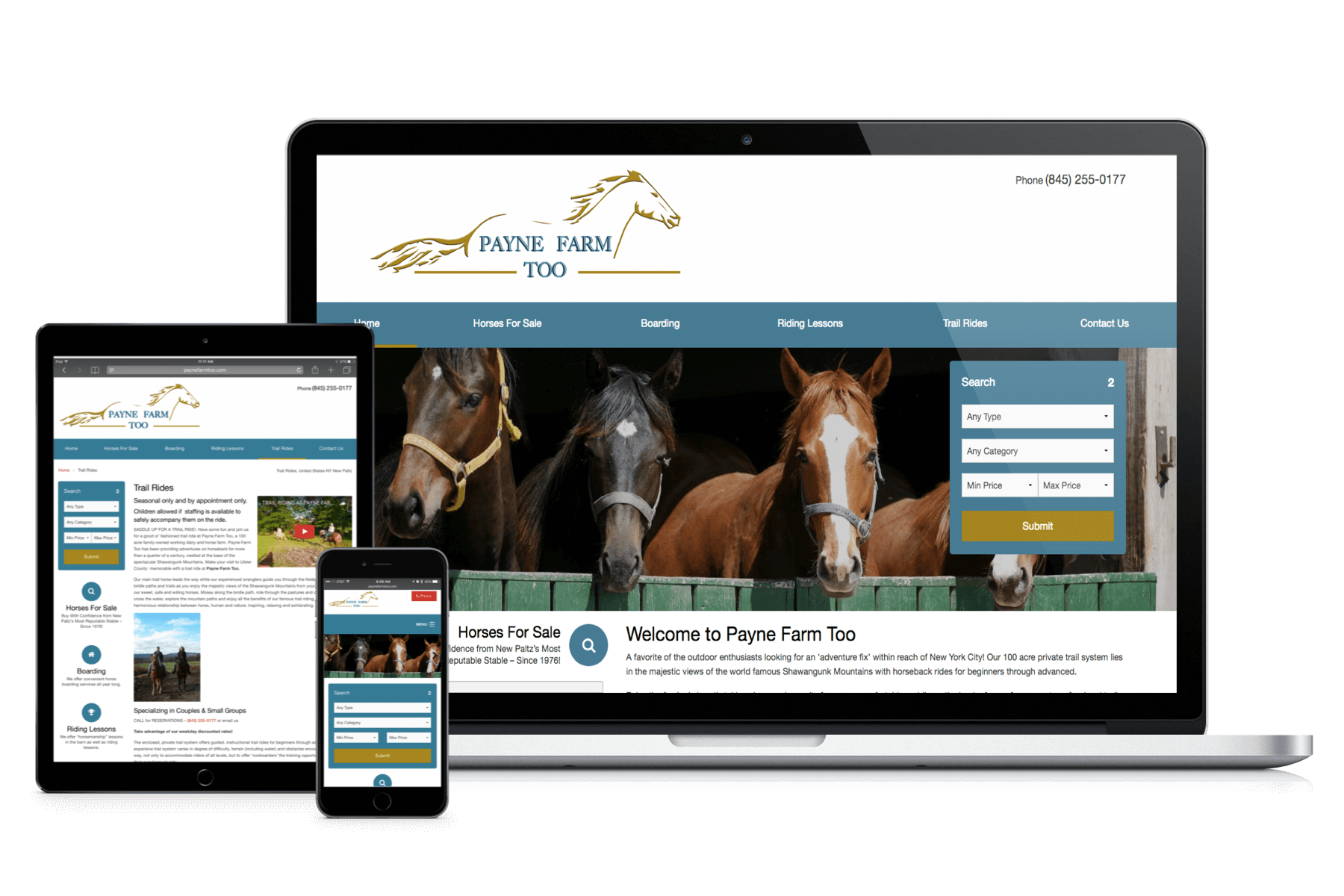 Payne Farm Too is a family owned farm that specializes in horse breeding, riding lessons, and horse boarding services.
Before signing up for an Infinity website they advertised solely through Horseclicks advertisements. Now their beautiful new website has gone live, Payne Farm Too now has an established place where visitors can not only gain information about the current breeds , but also about the other services that they provide.
With a website powered through Horseclicks Payne Farms Too has still been able to reach hundreds of thousands of potential customers theough Horseclicks, except now they have a professional online web presence themselves too!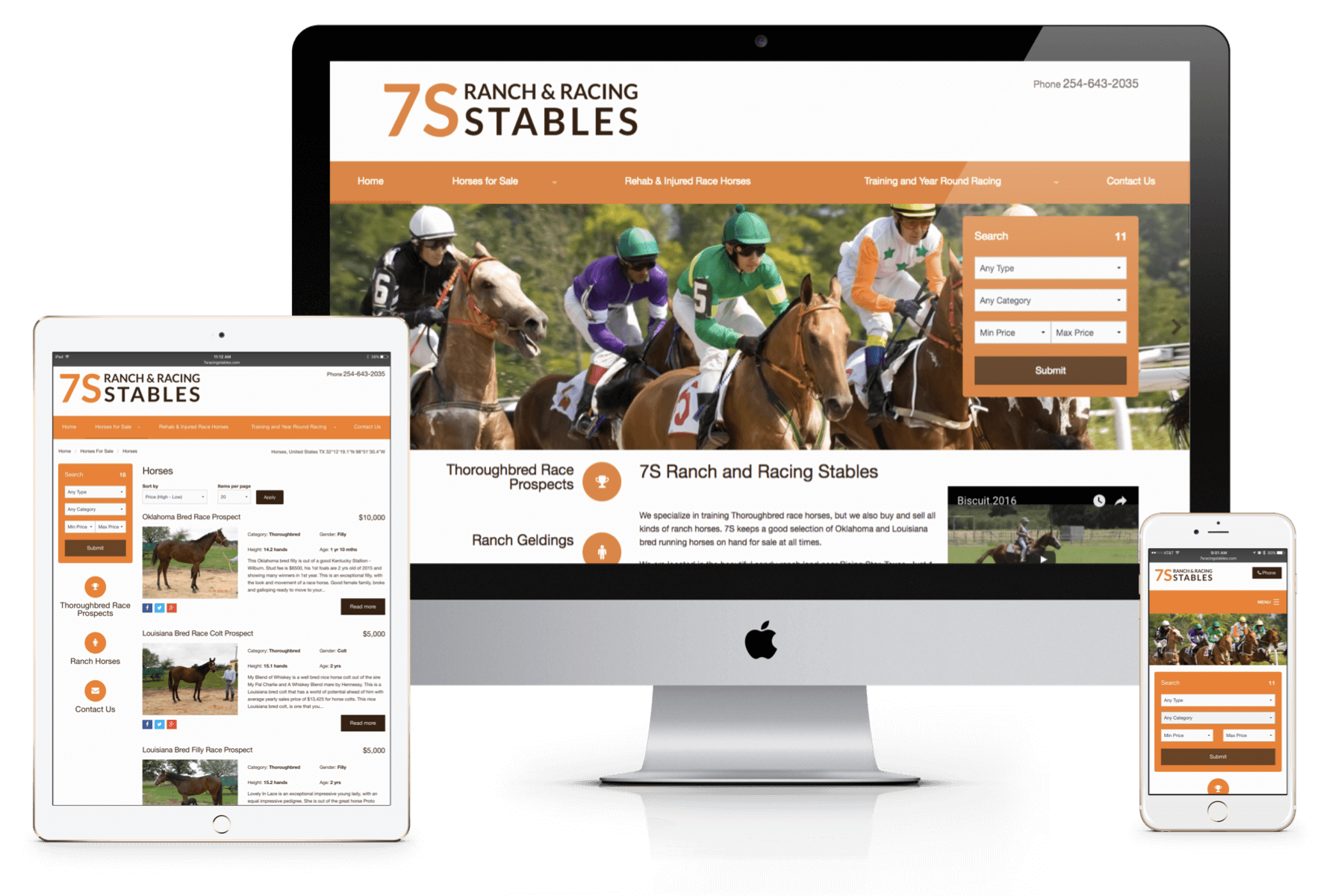 Business really is booming for 7S. They started advertising on HorseClicks a few years ago, when they only had a few horses for sale, they didn't have a website and Horseclicks was their only form of advertising.
They then tried using one of the free website design programs but it doubled their work, having to upload to both their website and HorseClicks everytime they had a new horse for sale.
Spidersnet Equine now allows their advertisements and products to be posted directly on both sites at the same time, simply with the click of a button.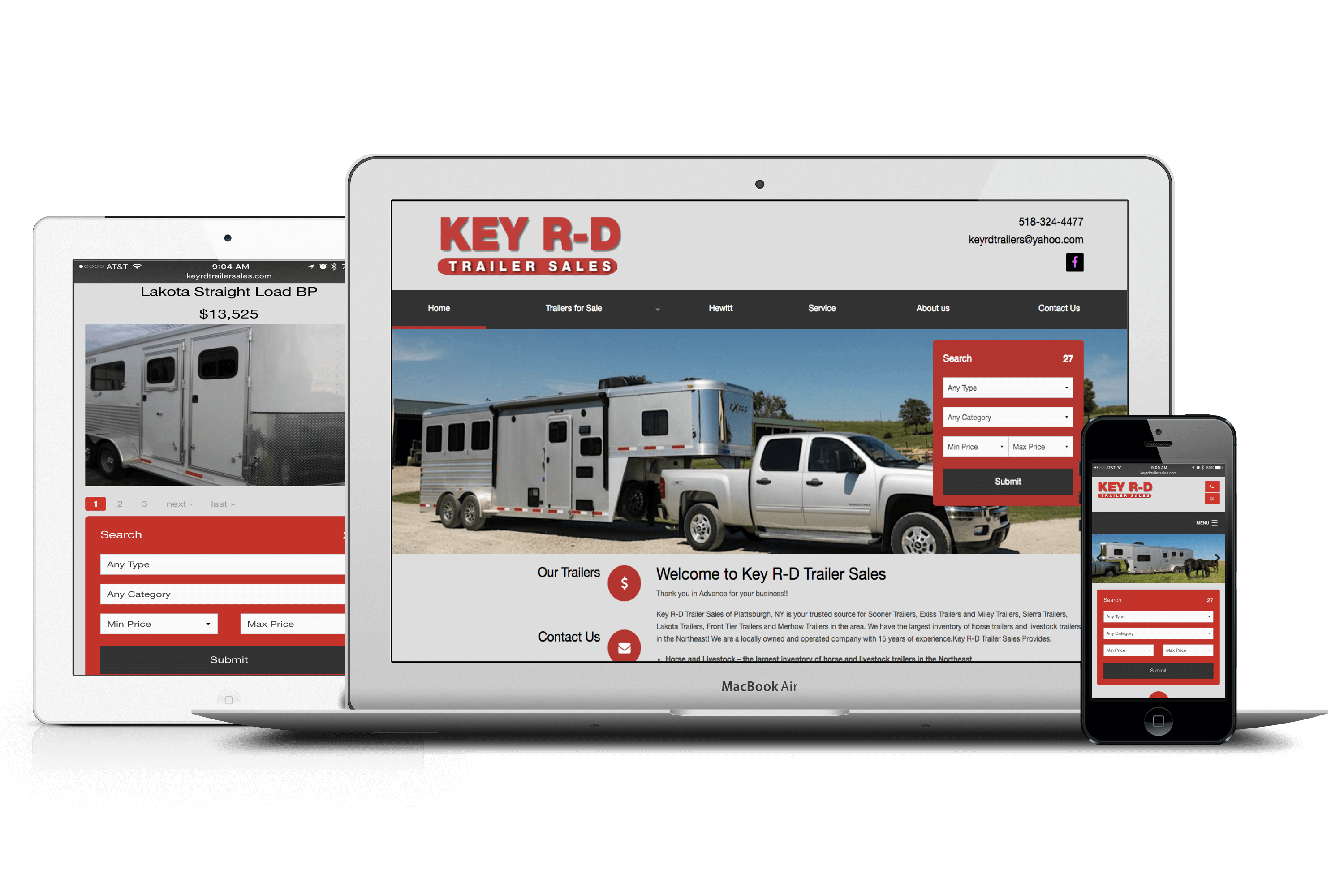 Key R-D trailer sales has been in business for over 15 years, serving all of your trailering needs in upstate New York and Vermont.
They are a bold and beautiful example of how highly effective an Advanced website can be for trailer dealers in the US.
They've had their Infinity website for over a year now and it's helped them to generate almost triple the amount of incoming inquiries.
When they were only advertising on HorseClicks, consumers saw mostly just their horse trailers. With their new Infinity, site not only has R-D maintained their Horseclicks customers, but also grown to be able to display all of their trailers for any purpose as well as giving customers an insight to the company itself.
Where can I feed my listings to?
As well as having your listings appear on both your own dealer website and Horseclicks, our Infinity website solution also has a number of high profile partners which we can automatically feed your ads to, if you wish: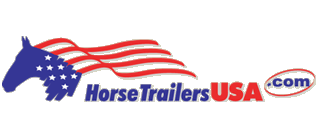 One of the America's 
top horse trailer 
classified websites.
With a wide selection of trailers, HorseTrailersUSA is a must have partner when advertising your listings.
Feed accepted if you have an account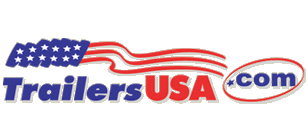 Over 9,000 new and used trailers live on the site,
daily
.
TrailersUSA is a trailer classifieds site dedicated to providing resources and links that help viewers learn more about the trailer industry.
Feed accepted if you have an account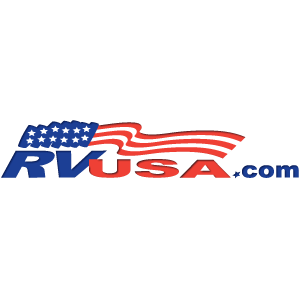 One of the world's top RV classified websites.
Over 300,000 visits per month, Spidersnet Equine customers can take advantage of our network and feature their ads here as well.
Feed accepted if you have an account
Got a question?
Our team is on hand to answer any questions you may have between 9-5 Monday through to Friday. Call us if you have any questions about our Spidersnet Equine websites or advertising on HorseClicks.
786-433-7120
Alternatively, download our brochure for further info on our other products
[contact-form-7 id="44″ title="PDF Request"]